Heavy Hex Nuts are washer faced, are slightly larger and thicker than standard hex nuts. The heavy hex pattern is typically used for large diameter and high strength bolts.
Finish:  Plain & Galvanized
Grades:  A563 Grade A,C,C3,DH,DH3 & A194 Grade 2H
Sizes: 1/2″ up to 4″ diameter
Domestic or Foreign are available and in stock!
Note: Galvanized nuts are always tapped over-size to accommodate for the extra thickness added by the galvanizing process.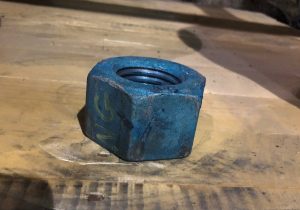 Heavy Hex Nuts
| Major Diameter of Thread | Flats Width | Thickness Heavy Hex Nuts |
| --- | --- | --- |
| 1/2 | 7/8 | 31/64 |
| 9/16 | 15/16 | 35/64 |
| 5/8 | 1 1/16 | 39/64 |
| 3/4 | 1 1/4 | 47/64 |
| 7/8 | 1 7/16 | 55/64 |
| 1 | 1 5/8 | 63/64 |
| 1 1/8 | 1 13/16 | 1 7/64 |
| 1 1/4 | 2 | 1 7/32 |
| 1 3/8 | 2 3/16 | 1 11/32 |
| 1 1/2 | 2 3/8 | 1 15/32 |
| 1 5/8 | 2 9/16 | 1 19/32 |
| 1 3/4 | 2 3/4 | 1 23/32 |
| 1 7/8 | 2 15/16 | 1 27/32 |
| 2 | 3 1/8 | 1 31/32 |
| 2 1/4 | 3 1/2 | 2 13/64 |
| 2 1/2 | 3 7/8 | 2 29/64 |
| 2 3/4 | 4 1/4 | 2 45/64 |
| 3 | 4 5/8 | 2 61/64 |
| 3 1/4 | 5 | 3 3/16 |
| 3 1/2 | 5 3/8 | 3 7/16 |
| 3 3/4 | 5 3/4 | 3 11/16 |
| 4 | 6 1/8 | 3 15/16 |