Coupling Nuts are used to make up long tie rod assemblies from shorter lengths of rod and to facilitate assembly of two fasteners or fittings which both have external threads.
Standard coupling nuts are produced from ASTM A108 grade 12L14 hexagon or round bars with 50 Ksi minimum yield strength. Other available materials include 1045, 4140, structural grades and stainless steels.
Click on the pictures for a closer look!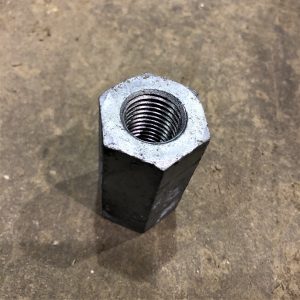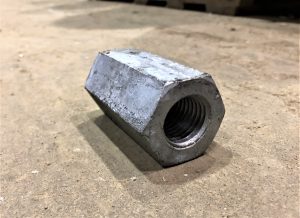 Coupling Nuts
| Thread Diameter | Across Flats Size | Across Points Size | Length | Weight Each (lbs) |
| --- | --- | --- | --- | --- |
| 1/2 | 3/4 | 7/8 | 1 1/2 | 0.12 |
| 5/8 | 1 | 1 1/8 | 1 7/8 | 0.30 |
| 3/4 | 1 1/8 | 1 5/16 | 2 1/4 | 0.42 |
| 7/8 | 1 5/16 | 1 7/16 | 2 5/8 | 0.56 |
| 1 | 1 1/2 | 1 3/4 | 3 | 0.99 |
| 1 1/8 | 1 5/8 | 1 7/8 | 3 3/8 | 1.23 |
| 1 1/4 | 1 7/8 | 2 3/16 | 3 3/4 | 1.93 |
| 1 3/8 | 2 | 2 5/16 | 4 1/8 | 2.31 |
| 1 1/2 | 2 1/4 | 2 5/8 | 4 1/2 | 3.33 |
| 1 5/8 | 2 3/4 | 3 3/16 | 4 7/8 | 6.17 |
| 1 3/4 | 2 3/4 | 3 3/16 | 5 1/4 | 6.16 |
| 1 7/8 | 3 | 3 7/16 | 5 5/8 | 8.01 |
| 2 | 3 1/4 | 3 7/16 | 6 | 7.9 |
| 2 1/4 | 3 1/2 | 4 1/16 | 6 3/4 | 12.7 |
| 2 1/2 | 3 7/8 | 4 1/2 | 7 1/2 | 17.2 |
| 2 3/4 | 4 1/4 | 4 15/16 | 8 1/4 | 22.7 |
| 3 | 4 5/8 | 5 5/16 | 9 | 29.2 |
| 3 1/4 | 5 | 5 3/4 | 9 3/4 | 36.8 |
| 3 1/2 | 5 3/8 | 6 3/16 | 10 1/2 | 45.8 |
| 3 3/4 | 5 3/4 | 6 5/8 | 11 1/4 | 56.0 |
| 4 | 6 1/8 | 7 1/16 | 12 | 68 |
| 4 1/2 | 6 7/8 | 7 15/16 | 13 1/2 | 96 |
| 5 | 7 5/8 | 8 13/16 | 15 | 130 |