Commercial Flat Washers provide a smooth bearing surface under the head of a bolt or nut. Manufactured under the F844 specification, they are unhardened and intended for general usage.
Finishes: Plain (black) Hot Dip Galvanized & Mechanical Galvanized.
Special custom sizes are available upon request.
Click on pictures for closer look!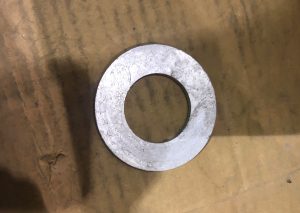 Commercial Washer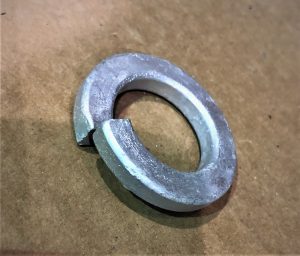 Lock Washer
Commercial Flat Washers
Bolt Size In.
Outside Diameter In.
Inside
I.D. In.
Thickness
Approx. Lbs per 100 Pcs.
Approx. No./Pcs. 50 Lbs.
Approx. No./Pcs. Per Lb.
1/2
1 3/8
9/16
.086/.132
3.85
1,300
26
9/16
1 15/32
5/8
.086/.132
4.55
1,100
22
5/8
1 3/4
11/16
.108/.160
7.70
650
13
3/4
2
13/16
.122/.177
11.00
455
9.1
7/8
2 1/4
15/16
.136/.192
15.30
325
6.5
1
2 1/2
1 1/16
.136/.192
18.80
265
5.3
1 1/4
3
1 3/8
.136/.192
22.00
225
4.5
1 3/8
3 1/4
1 1/2
.153/.213
33.30
150
3
1 1/2
3 1/2
1 5/8
.153/.213
38.40
130
2.6
1 5/8
3 3/4
1 3/4
.153/.213
44.80
115
2.3
1 3/4
4
1 7/8
.153/.213
50.00
100
2
1 7/8
4 1/4
2
.153/.213
56.90
90
1.8
2
4 1/2
2 1/8
.153/.213
63.00
79
1.6
2 1/4
4 3/4
2 3/8
.193/.248
82.60
60
1.2
2 1/2
5
2 5/8
.210/.280
96.10
52
1
2 3/4
5 1/4
2 7/8
.228/.310
110.00
45
0.9
3
5 1/2
3 1/8
.249/.327
130.00
43
0.8
---